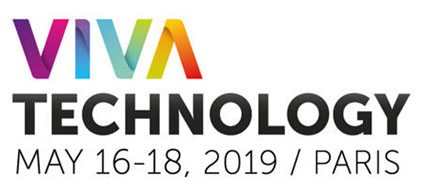 In just 3 years, VivaTech https://vivatechnology.com/ has become the unmissable meeting point for global Tech in Europe with more than 100,000 participants in 2018.
VivaTech is distinguished by its ability to bring together large groups and startups, and to combine business challenges and discovery of innovations for all audiences.
On this occasion, IPSIDE, which has been supporting companies in their innovation and intellectual property strategy for nearly 40 years, celebrates tech on May 16, 17 and 18 at Paris Porte de Versailles.
In the Accelerate Solution area, IPSIDE welcomes five startups on its booth M19 to present their innovative solutions and services.
Many of them were present at CES in Las Vegas and are already major players in their sectors:
Marianka (Albi)

Touch a surface and it responds with a light signal, here is the patented innovation called "La Matière Bavarde". This technology allows the light to be turned on or off by a simple touch on the material. https://marianka.fr/






Zoov (Paris)

The first electrically assisted bicycle sharing service, Zoov guarantees sharing respectful of public roads thanks to a new generation of light and ultra-compact parking bollard.

 

 

Le Pavé Parisien (Paris)

High-end wireless speaker, Le Pavé Parisien is 100% customizable, custom-made in France. The concrete that composes it guarantees resistance and high quality sound. It is designed to be repairable for life.

 

 

ASAMGO (Brest)

Asamgo is developing Ofi, a Luminous Floating Object connected to the smartphone, which analyzes the water quality of the basin day and night. Equipped with LEDs, Ofi is also expressed in three colors corresponding to its diagnosis.

 

 

Authentic Material (Toulouse)

Provides precious natural materials to many prestigious Houses. Their particularity? All come from the recovery of production scraps of organic, mineral or vegetable material: mother-of-pearl, seashell, wood, horn, leather.