In 2011, following a self-determination referendum, South Sudan gained independence from Sudan. Since 2015, this new sovereign State has been preparing to adopt a law on intellectual property which, to date, has yet to be enacted.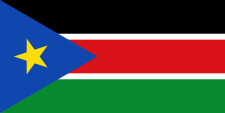 Due to this lack of a legal framework, it is currently impossible to register trademarks in South Sudan, while trademarks protected in Sudan do not entail protection in South Sudan.

For this reason, anticipating an official adoption of the law, the Ministry of Justice has reinstated a trademark reservation system (such a system had already been put in place in the past, but was abandoned in 2017).
What is trademark reservation?
The trademark reservation mechanism, somewhat comparable to the sunrise period for domain names, allows trademark owners to secure a given date and so be granted priority over the sign while waiting for adoption of the law. Once the law officially passes, reserved applications should be registered as trademarks.
What advantages would reservation of a mark before adoption of the law give?
The trademark reservation mechanism prevents third parties from interfering and registering trademarks that are identical or similar to those reserved by legitimate owners of these signs.  Consequently, reserving a trademark enables the rightful owners to retain control over their distinctive identity and to limit as far as possible potential future conflicts (particularly against third parties acting in bad faith).
The trademark reservation system has the additional advantage of speeding up future trademark registration procedures.
What formalities should be followed to reserve a trademark?
→ If you already reserved your trademark under the previous reservation system, you do not need to take any further steps, as your reservation was already taken into account. Our team of experts would be happy to help you should you be willing to update your reservation or carry out an audit.
→ If you have not yet reserved your trademark, then this reinstatement of a trademark reservation system is an opportunity to reflect on your protection in South Sudan, bearing in mind that your registrations in Sudan do not grant you protection in South Sudan. Our team of experts is available to assist and answer your questions.
Of course, further amendments remain possible until actual enactment of the projected future IP law. In the meantime however, and in order to safeguard your rights, our Group is keeping abreast of developments and is available to help you anticipate your protection strategy in the South Sudanese market in consideration of your current and future activity.