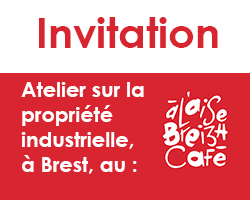 Thursday June 13, 2019, From 6.30 p.m. to 11 p.m., at the Aise Breizh Café, port de plaisance du moulin blanc, 29200 Brest.
You will be able to meet our teams of experts to know everything about Industrial Property without ever having dared to ask for it: patent filing, trademark, design and model, software, litigation, contract, domain name and copyright.
Our patent and trademark attorneys and our lawyers will answer all your questions during an individual interview if you wish.
This meeting will be accompanied by a cocktail reception during which you will be able to exchange views with other local economic players who, like you, will have come to discuss intellectual property.
Take part in the afterwok on intellectual property in Brest
Hope to meet you or see you again soon.